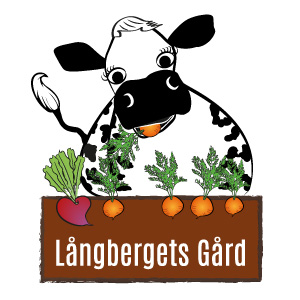 Långbergets Gård is a family farm that has a special local breed of cows that go out all year round. They sell beef and grow vegetables, everything organic, local and small-scale. They also sell homemade dried vegetables, sweets, candies and beverages.They are part of REKO-ring, that organises local food markets.
Some of their business values are: honest, straightforward, down-to-earth, personal, playful, organic and local. They wanted a logo that would reflect these values and fit their family and business.
The final logo was a cow eating vegetables from a vegetable patch. It's inspired by a real event where one of their cows did this. The style is playful with a little humor. An important target group is families with children. When families with children visit their market stalls, it's creates someting fun for the kids. In addition, the logo is quit different, which makes them stand out more.
In addition to the logo, I have also made a series of illustrations, which are used on labels and the packaging of sweets and beverages.